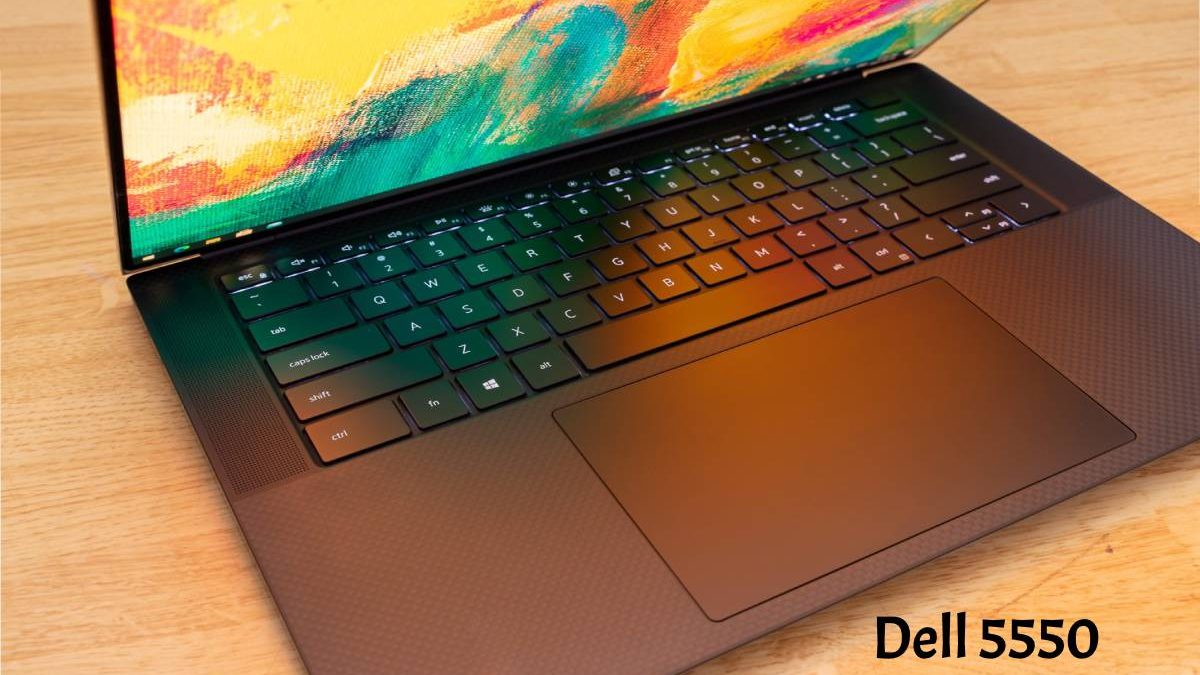 Introduction
Intelligent performance
Dell 5550 – The right technology: Up to 10th Gen Intel® Core™ or Xeon® vPro® processors offer businesses the performance, manageableness, built-in security features, and constancy of Intel® architecture.
Professional graphics: Work with a powerful apps like CAD and Adobe Creative Cloud Suite seamlessly thanks to the impressive performance of next-generation NVIDIA Quadro® T2000 graphics with 4GB of memory.
Fast, dependable memory: Accelerate workflows and improve reply time with high-speed memory up to 64GB at 2933MHz.
Store your creations: Keep your designs resident with up to 4TB of high-speed storage*.
Intelligence that Matches Yours
Dell Optimizer for Precision is a built-in AI platform that learns how you work and continuously adapts to your style to create a smarter, more personalized and productive experience.
ExpressResponse: Launch your most used apps faster. We use built-in AI and Intel® Adaptix™ Technology to adjust performance levels where you need them most.
ExpressCharge: AI improves battery performance by adapting to your typical power consumption and charge patterns. Always on the go? You'll get an ExpressCharge Boost to gain 35% charge in about 20 minutes. Have more time? ExpressCharge will automatically get you up to 80% in an hour.* And if you can't charge your system right away, it will subtly adjust settings to preserve resources, such as dimming your screen or turning off Bluetooth when not in use.
Intelligent Audio: Dell Optimizer's Intelligent Audio will automatically tune your system by adjusting background noise, managing speech volume and refining overall sound experience so you can hear and be heard better wherever you work.
Designed for the Future – Dell 5550
Less is More
The curtailed footprint, borders and bezels all add up to an improved viewing experience.
Maximum Portability
Work will not ever weigh you down with this frivolous laptop, weighing in at just 4.06 lbs.
Upgrade your experience
Industry-leading display: An 92% display-to-body ratio gives you maximum screen and minimum footprint.
Low blue light: Optional TUV-certified low blue light panels reduce eye strain day and night.
Smart thermals: A revolutionary cooling solution designed to help your most intensive programs run smoother than ever.
Larger touchpad: A larger touchpad helps your creations come to life with more freedom than ever.
Updated keyboard design: Work easily with a 1.3mm travel distance, a new modern look and feel, and an optional fingerprint reader.
Security. Productivity. Reliability.
Productivity at your fingertips: The elective Windows Hello print reader safeguards that you and only you can access your effort. But, simply home your finger on the sensor and fair like that, you're ready to take on the next task. After that, or upgrade to the Windows Hello IR Photographic camera and sign on with one look.
Dell Reliable Memory Technology Pro: Dell Reliable Memory Technology (RMT) Pro protects your work from potential crashes. Dell's exclusive, RMT Pro works in conjunction with ECC memory to detect and correct memory errors in real-time.
Better video calls: The camera placement lines up with your eye line for natural, convenient conversations.
Modernize your IT with Dell Technologies Unified Workspace – Dell 5550
Moreover, Dell Technologies Unified Workspace intelligently modernizes end user experiences for seamless productivity with proactive, predictive and automated solutions for deployment, security, management and support.
Deploy: ProDeploy in the Unified Workspace allows you to move away from traditional, high-touch, manual placement, and instead, ship devices preconfigured with company apps and settings from the Dell factory directly to their end users—having end users up and working on day one.
Secure: Dell Trusted Devices provide a foundation to a modern workforce environment with invisible and seamless protection to ensure smarter, faster experiences. After that, end users stay productive and IT stays confident with modern security solutions for the Dell Trusted Device.
Manage: Dell Client Command Suite + VMware Workspace ONE offers combined capabilities that deliver a unified endpoint management experience to customers so they can manage firmware, OS and apps from one console.
Support: ProSupport resolutions hardware issues up to 11x faster than the rivalry. ProSupport for PCs offers 24×7 admission to in-region ProSupport technologists who contact you when critical issues arise,* so you can focus on what's next. Not what fair happened.
ProSupport Plus helps you stay a step fast and almost eliminate unplanned downtime due to hardware subjects. You get all the competencies of ProSupport, as well as AI-driven warnings to prevent failures and repairs for accidents.*
Dell SupportAssist OS Recovery: Enable a recovery environment with tools to diagnose and troubleshoot issues that may occur before your computer boots to the operating system.
Related Search Terms
[dell precision 5550
[dell 5550
precision 5550
[dell precision mobile workstation 5550
[dell precission 5550
[dell precision 5500
[dell 5550 precision
precision 5550 workstation
5550
[dell mobile precision 5550
[dell mobile precision workstation 5550
[dell mobile precision workstation 5550 cto
[dell precision 5550 laptop
[dell 550 laptop
del precision 5550
buy [dell precision 5550
[dell inspiron 5550
[dell precision mobile 5550
precission 5550
[dell precision 5550 32gb ram
[dell xps 5550
[dell precision 5500 laptop
[dell precision 5550 i9
[dell precision workstation 5550
[dell precision 5550 i9 32gb 1tb
[dell precision m5500
mobile precision 5550
del 5550
precision 5500
percision 5550
precison 5550
p5550
[dell precision 5550 spec
precision 5550 specs
precision 55xx
[dell precision 5550 specs
[dell precision 5550 review
[dell precision 5550 reviews
[dell precision 5550 graphics card
[dell precision 5550 display
usa precision
[dell precision 5550 vs macbook pro
[dell precision 5550 size
[dell precision 5550 ports
[dell precision 15
15 ai down
[dell inspiron precision
[dell pre
[dell precision on
555 usa
quadro t2000 price
what is 15 of 550
when will 15.ai be back up
ai
15.ai
ts 5550
550 15
[dell precision 5550 thunderbolt
laptop decision maker
15 a i
why is 15.ai down
15 al
15-ai
15.ai working
google space inch
15 ai
[dell precision 5540 vs 5550
body box 5500
555 512
lenovo workstation laptops
[dell precision 5550 vs 5560
aa 5550
[dell graphics workstation
15 of 550
[dell precision 5550 bluetooth
what happened to 15.ai
t1000 strain
15 ai not working
[dell precision 15 inch
15ai twitter
precision 5550 review
travel workstation
15 . ai
ai15
Related Keywords
it world canada
vaxicode verif
msn sympatico
home hub 4000
wordle canada
samsung z flip price canada
infosys mississauga
julie levesque
facebook whatsapp websinghtechcrunch
lakehead university cyber attack
rogers pixel 6
homehub 4000
ian scott crtc
wifi 6e canada
joshua mckenty
samsung pay canada
wind lte toronto
robert brennan hart
lakehead cyber attack
rogers connected for success
cybersecurity resecurity midfebruary
bmo hack 2018
lg velvet release date canada
precision 5550
interact down
huawei mate 20 pro canada release date
mvno in canada
jean françois pruneau
samsung pay td canada
high severity bios flaws affect numerous
ibm layoffs 2016 canada
rogers cyber attack
ceo bell canada
bluwave ai
stripe toronto
firefox princetonbonifacicengadget
rex lee
collision 2021
jean francois pruneau quebecor
rogers pixel 6 pro
jean francois pruneau
6700 xt release date canada
zighra
videotron 5g
some smb wall streetjournal
telus jasper
sources 10b tsmc
sap sobeys
samsung s20 fe price canada
kevin peesker
samsung s21 canada
galaxy book pro
ceo of bell canada
pixel 6 rogers
google fiber canada
pinterest toronto office
asus c523
goldcorp hacked
lg cell phones canada
caleb walker
president of bell canada
sympaticomsn
asus c523 15.6 chromebook
sympatico news
lumo interactive net worth 2020
julie lévesque
dreamspark waterloo
harry hart hartco
td samsung pay
lgbtq2s+
dell 5550
right to be forgotten canada
women in tech canada
asus chromebook c523 reviews
asus chromebook c523 review
asus zenbook duochin
sean brownlee
samantha liscio
asus chromebook c523
jean-francois pruneau
eko stethoscope canada
ttt studios
probook
sympatico msn
gateway nesbitt burns
accenture st catharines
mbanx canada
fitbit versa lite canada
bell canada ceo
lti canada
ahsc roam
long distance charges rogers
experts apple ioswilson
cross country internet
anju virmani
bell home hub 4000
it salary
humber river hospital cyber attack
rex lee canadian tire
[dell precision 5550 price]
[dell precision 5550 amazon]
[dell precision 5550 release date]
[dell precision 5550 i9 32gb 1tb]