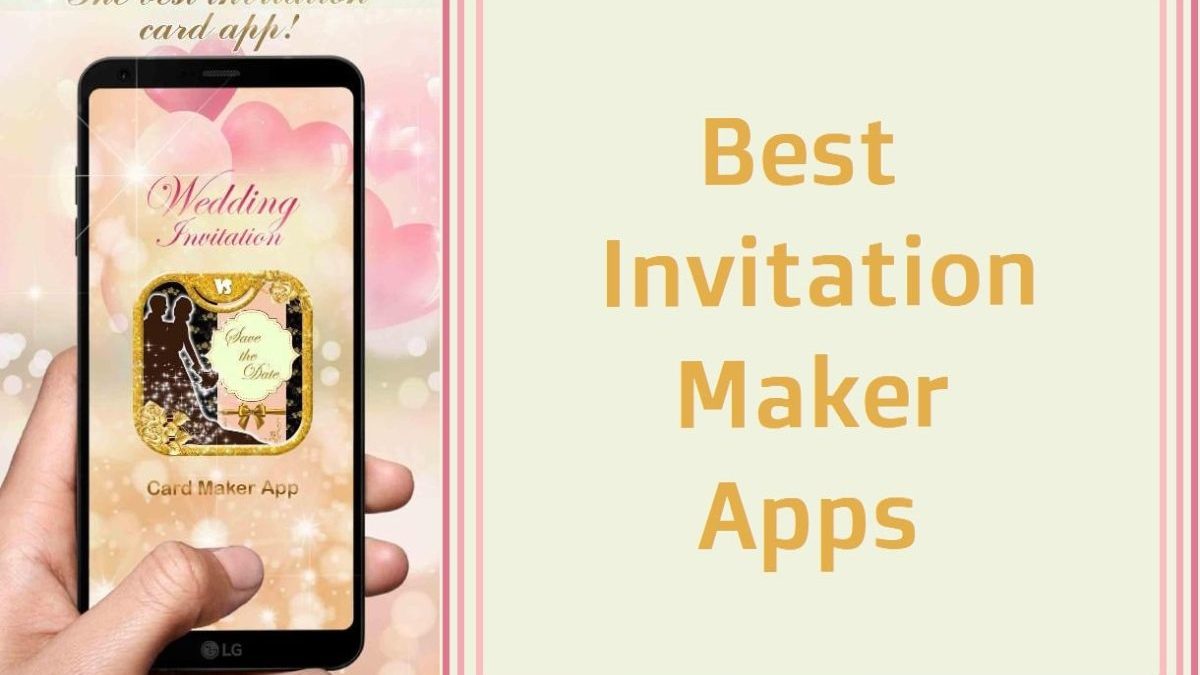 Invitation Maker Apps Available for Android
Invitation cards are a great way to share your event's details (date, time, and venue) and invite others to join you on your special days. Furthermore, they are also used to tell people what kind of event you are hosting. Besides, it is a better and more convenient way to invite people to your event than calling them over the phone.
However, designing a great invitation card isn't an easy task for all those who don't know much about graphic design. That's why most people hire professional designers to design incredible invitation cards for their events. Unfortunately, although graphic designers can create eye-catching and elaborative cards, they charge a massive amount for their services.
Want to save that money? Create designs yourself. There are multiple Android applications that you can use to create those designs. In most cases, you can make much better invitation cards than seasoned designers, as most applications provide full customization utility to users.
This article will introduce you to the best invitation card maker free apps. Let's see what those applications are and what they have to offer!
1.    Invitation Maker – Card Creator
Here is the first invitation card maker application that you can use to create outstanding cards for various kinds of events. It welcomes users with 1000+ templates, from which they can choose anyone they feel is relevant to their event. It also made template selection easier by creating multiple categories. People just need to select the category, and they will see tons of exciting templates; every template is better than the others.
Besides providing a range of templates, this invitation card maker free app also offers hundreds of fonts and typography styles that allow people to customize every card according to their needs. Similarly, it has a wide range of shapes, stickers, backgrounds, images, and colors for users' ease. So it doesn't matter whether you know anything about graphic designing or not; this application will let you create designs of your choice.
Lastly, you can use this invitation card maker free of cost. It doesn't put any pressure on users' pockets for creating, sharing, or saving invitation cards. This application has also got the users' trust, which is why it maintains a 4.6stars rating on the Play Store. So, try it once; hopefully, you will love this app.
2.    Canva: Design, Photo & Video
You would be aware of this incredible platform. It is like a one-stop solution for multiple design needs. Besides, it is the most used application that is quite famous worldwide. More than 100 million people have downloaded this application due to its benefits, which are growing daily.
Although it provides multiple utilities, this article will only discuss how it helps create invitation cards. This application allows people to create unique designs from scratch or make some modifications to built-in templates. It has made invitation card designing more effortless than ever. If you have selected a template, you can quickly make a few changes, and your desired card design will be in front of you.
However, the problem with Canva is that it isn't always free. Sometimes, the designs you like for invitation cards aren't free. You will have to spend some money to get access to those designs. Otherwise, you will have to stick to those which are free to use. That's why many users choose other applications over Canva.
3.    Invitation Card Maker & RSVP
It is another great invitation maker that many users prefer due to its user-friendly interface and impressive design templates. This application allows people to easily create any kind of a card within a few minutes. This application has also developed multiple categories to provide ease to users.
It is also free to use, and you can create as many invitation cards as you want. However, if you purchase its premium version, you can gain access to more templates and enjoy an ad-free experience. Furthermore, you can get rid of the watermark after purchasing its premium version.
4.    Desygner: Graphic Design Maker
Desygner is one of the oldest invitation makers available on the Play Store. It presents thousands of fully customizable free design templates to users. In addition, it offers users multiple utilities so they can quickly edit or create invitation cards without acquiring graphic design skills.
With the help of this application, users can also design flyers, logos, posters, designs for social media posts, infographics, and many other kinds of designs according to their needs. That's why it is a preferred choice of many individual designers and companies.
When you open Android's Play Store, you see a range of applications that let people create customized designs. However, it can help if you do not try any random invitation card maker. Instead, it is better to check their ratings before installing any application. That's how you can save time and create extraordinary invitation cards.