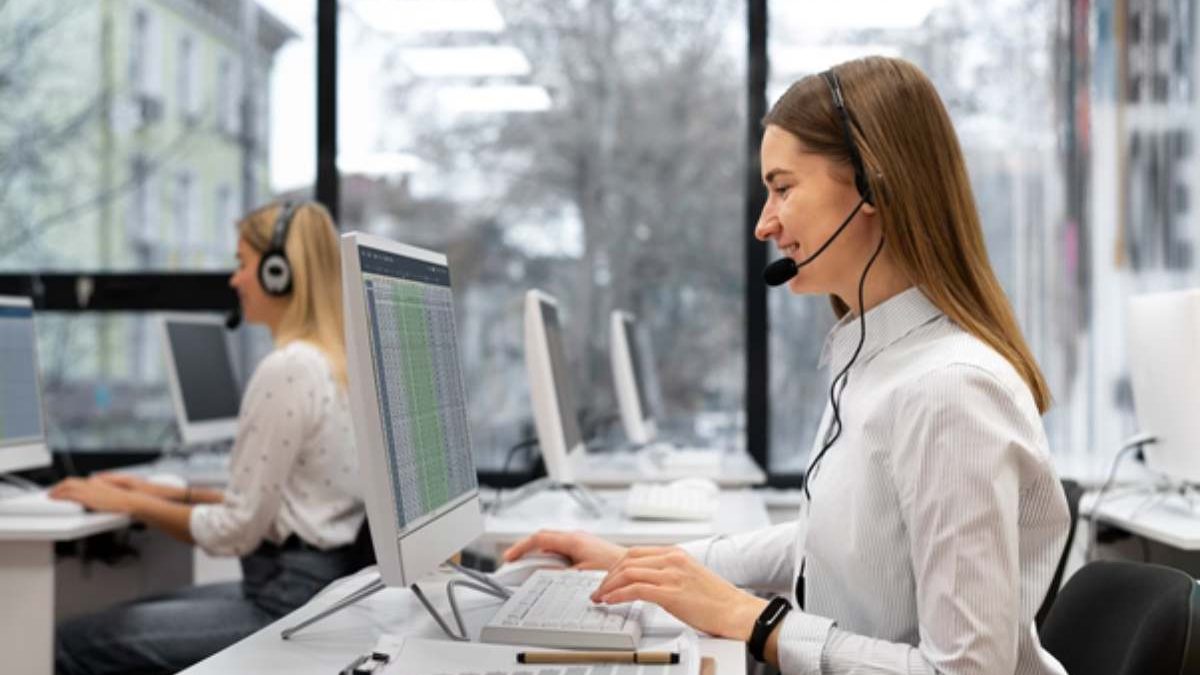 When we are talking about call centers, the first thing we think of is a large office with dozens of agents with headphones talking to customers under the control of team leaders. But what exactly makes this whole structure work in the right way? What allows the call center to process hundreds of calls per hour? It is called call center technology, or cloud-based call center software.
The call center is a multifunctional organization that handles numerous processes simultaneously, so there should be technology that will help to control and manage all these processes to make sure that all operations are processed in the right way. The call center software isn't just a tool that allows you to receive and process calls using a computer, it is the entire business environment that manages all operations, including workforce management, performance rates analysis and reporting, outbound calls, internal communication, and processing data from different sources, including integrated tools like CRM or help desk software systems.
But what about the technology that lies in the nature of call center software? Why do cloud-based call center software tools gain so much popularity? Is there any alternative for a cloud call center solution or is it the future of all call center software industry?
Let's find it out.
What is cloud-based call center software?
The cloud-based call center software is the call center software tool that has all infrastructure located and operated in the cloud. However, to understand the nature of  cloud-based call center software we have to define what is cloud technology.
Cloud technology means that all the data and infrastructure of a software solution, as well as all processes it handles, take place in the cloud environment, in other words, it means that the company that operates such software tool doesn't use any local servers or any other hardware. The cloud is a data environment that physically doesn't exist. Yes, the cloud environment uses local servers, but this is not the place where all data is stored, and that's why cloud technology opens new opportunities for business processes. First of all, this technology provides higher quality and speed of transmitting data. Secondly, cloud technology allows you to get access to the tool from any place in the world, and the only requirement is stable web linkage. Finally, cloud technology established absolutely new standards of security, because providers of cloud services put their reputation in the first place as they service numerous vendors and take responsibility for the business continuity of many companies.
Is there any alternative to cloud technology?
At this moment, there is only one alternative for setting up call center software infrastructure if we don't talk about cloud solutions – it is an old-but-gold on-premise call center solution. What is it? In short, it is an old-fashioned solution that requires a call center owner to purchase all the infrastructure, including hardware and software, and set it up locally. Purchasing infrastructure doesn't only mean that this would be a big investment, but it also means you have to hire someone to maintain it and recover in case of a breakdown. Moreover, it also means that you have to allocate a place for such call center infrastructure, and believe us, it isn't that easy to locate all those servers and related hardware.
The only advantage of an on-premise call center solution is often advertised as "absolute security". It isn't true in general, because no one can give you a guarantee that your local servers won't be hacked, or just crash down for any reason. The issue is that all problems you get with your own infrastructure should be resolved on your own, and it costs a lot in most cases. On the other hand, the cloud services provider is responsible for the proper functioning of the solution provided, so even in a case of a breakdown, the vendor will be the party that is responsible for the issue resolution. Moreover, cloud services have proven their high-class security standards, so we can't prove that on-premises solutions can offer somehow better security than a cloud solution.
What are the capabilities of cloud-based call center software?
The cloud-based call center software is a very capable solution that can be called a turnkey call center solution. It doesn't matter what are your business needs in a case of a call center setup, it can offer all the needed features for everyone and a personalized approach to any business.
First of all, cloud-based call center software offers powerful tools for managing and handling inbound calls. It includes smart call routing (call directing or call forwarding) tools that allow you to set up automated rules for routing incoming calls between your agents, including skill-based routing, priority-based routing, business rules routing, or routing based on agent performance – for instance, the system can manage agent idle time and provide all agents with the same volume of work.
It also can integrate numerous self-service options, such as IVR solutions, chatbots, and knowledge management systems. IVR solution can also manage call queues and eliminate dropped calls by offering a callback function.
Numerous communication channels are also available, and what's more, clients can change contact channels without losing the progress of the conversation. Such contact channels include social networks, live chats, messengers, and emails.
You can also track all processes of the call center via real-time dashboards. Such vital metrics, such as overall call volume, number of active agents, percent of abandoned calls, percent of calls resolved within first contact (FCR rate), and so on are automatically provided to you via call center reports.
The system also has powerful workforce management capabilities to manage agent schedules, and control agent work via call monitoring in three modes, and also you can integrate cloud-based call center software with all other business tools you need, such as CRM software or payment systems.
To finish the topic, let's agree with the truth –  cloud-based call center software is the best solution for call centers, and the trends show that cloud technology will push on-premises contact centers out of the business.